Litters and Puppies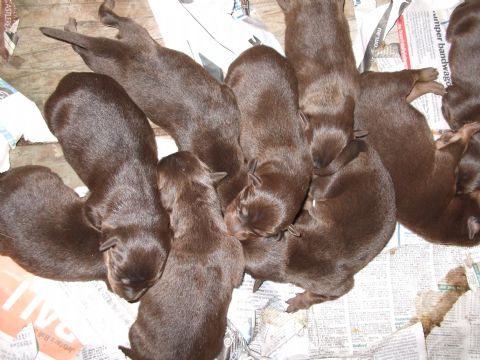 COME - LOOK AT THE KIDS
PLEASE NOTE - THE PHOTO'S ON THIS SITE/PAGE ARE NOT NECESSARILY THE
ACTUAL LITTER - THEY COULD BE FROM PREVIOUS LITTERS
We breed our puppies for temperament, type, intelligence, ability and soundness.
We DO NOT breed our pups simply to have one available when someone decided that it would be nice to get a puppy for a birthday gift next week.
PLEASE PLAN AHEAD.
If you are thinking of getting a puppy (Kelpie or otherwise) from a registered breeder, which is of course where you should always get one from, phone them in plenty of time to make your enquiries as puppies are not always available exactly when you want one.
It is always best to put forward an expression of interest and wait for the right one to come along.
Due to buyer default, I do ask a $200 non-refundable deposit at 2 weeks of age and the balance of the purchase price of the pup to be received and cleared before the puppy leaves us.
I expect to speak to prospective buyers before I agree to let you have a Eurowenban puppy. By all means, email to make your first or general enquiries.
If you have your heart set on a particular sex or colour - please be patient - don't just take the first pup you are offered. That special puppy will come along.
I'm always happy to put prospective puppy owners in contact with folk that have already got a "Eurowenban" Kelpie.
Domestic and International.
As I don't breed just for the sake of breeding, I am not a business (The dogs are my passion and hobby) nor is there a profit from the pups, NO definite orders are taken. It will be first in best dressed.
Domestic.
Eurowenban puppies are sent to their new homes having been wormed from 2 weeks of age – every 2 weeks, microchipped, had their first vaccination and vet checked at that time and registered with Dogs NSW (ANKC) on the Limited (Pet) register unless by prior arrangement.
As my vet does not give medical clearance letters, but they do give a "Flight Letter" to give a medical clearance to allow the pup to fly for delivery if necessary. Even if the puppy doesn't need to fly I still get this letter.
1. After an offer of a puppy is made, which is usually before the age of 2 weeks, a $200 NON REFUNDABLE deposit will be accepted to secure the puppy.
2. The balance of the purchase price is to be received before the puppy leaving my property OR the balance to be paid in cash on pick up of the puppy.
3. Once the puppy has been put into its new owners' hands, or on the transport to them, it is no longer the responsibility of Eurowenban. It is then the new owners' responsibility to ensure the puppy gets it's booster vaccinations and any/all other medical requirements and training for its future happy life.
4. I am happy to organise freight, either road or air, but all costs are to be covered by the buyer.
5. I only have one firm condition of sale and that is – if you can't keep, don't want or can't have your dog for ANY REASON at any age they come home to me. I attempt to re-home them if suitable but if not I take responsibility for them.
International.
All Funds in Australian $ only.
(International enquiries will be considered on an individual basis as I'm considering suspending international shipping)
Eurowenban puppies are sent to their new International homes having been wormed from 2 weeks of age – every 2 weeks, microchipped, had their first vaccination and vet checked at that time and registered with Dogs NSW (ANKC) on the Main register along with their worming and domestic vaccinations suitable to 4 months of age.
1. After an offer of a puppy is made, which is usually when I determine a pup is of the quality I am happy to export, 50% of the full price will be expected within two weeks.
2. The balance of the purchase money is to be received by me and cleared, before the puppy receiving any quarantine specific requirements.
3. The cost of Export Pedigree & transfer of ownership along with its second domestic vaccination is included in the purchase price of the pup along with its care and maintenance until it is 4 months of age (the usual age allowed for an international flight). All other requirements for exporting the puppy is the responsibility of the new owner, for example, any extra vaccinations such as Rabies or specific quarantine wormings and blood tests etc along with the freight. We do not charge any extra for ORGANISING any of the extra procedures or freight. If I am needed to transport the pup etc costs will apply.
4. It is not a requirement of registration to have any testing done for the Australian Kelpie. We do not do hip or elbow x-ray at this point, nor do we do eye testing due to the fact that the nearest testing facilities are approximately a 5-hour drive (one way). No agreements for refund or compensations if the animal develops any problems at any time. The pup is sold AS IS. No Guarantees.
Eurowenban Stud – Australian Kelpies.
REFERENCE
I will finally start to put some references on the site from previous Eurowenban Puppy owners.
LITTERS IN THE FUTURE FOR THE FUTURE
Litter Due early August - Those who are available will be posted here at two weeks of age.
Keep viewing. Litter will be put up here when appropriate.
PLEASE DON'T ASK IF YOU CAN SEE THEM BEFORE ANYONE ELSE OR IF YOU CAN GET PICK OF THE LITTER OR EVEN IF YOU CAN PUT IN A DEPOSIT EARLY TO GUARANTEE A PUPPY BECAUSE YOU WILL BE TOLD NO.
******************
I often get asked if we are prepared to send the pups to their new home with a freight company. The reply is YES - naturally. How else do you get them when you are in another state or even country.
We do have a company we have been using for nearly 20 years and are happy to put you in contact with them. Some door to door road transport is also available.
NO TEXT MESSAGES WILL BE ANSWERED - PHONE PLEASE AND TALK IN PERSON BUT AN EMAIL IS FINE.
Contact Details
Fiona Scott
Dubbo, NSW, Australia
Phone : 0400 653378
Email :
[email protected]